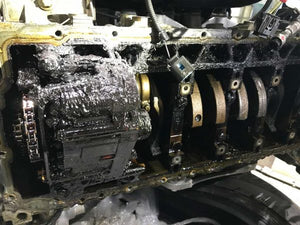 Service Intervals
Why should I service my car at regular intervals and by a workshop that is a European specialist?
So many European cars now can go up to 30,000kms between service intervals. But does this mean we should or can we leave it that long between a technician seeing your car? Saving money in the short term does not always mean saving money in the long term.
Why is it particularly important to not go pass the service intervals for a car with "long life" oil?
Recently I had a workshop contact me about a BMW 528i sedan that had major issues. The car was 8 years old and had only 150,000kms on it but the engine needed to be replaced. The reason….the car had only 4 services in its life and wrong products had been used. This combination led to a major failure of the engine resulting into a piston, gidgeon pin and conrod amongst the parts laying at the bottom on the sump of the car smashed to pieces.




Unfortunately, the customer thought that as the vehicle had service intervals of 30,000 kms, that he could push it "just a little" further each time. First was 40,000kms, second service was another 50,000kms later. And the last was 60,000kms later. And each time, the owner decided to save again a little more money and took it to a workshop that wasn't familiar with Euro cars and put in a low grade oil and the wrong coolant in the engine. All of these things lead to customer having the car towed in to a euro specialist workshop as it would not start. When the workshop took the sump off, 3 litres of green (not blue which is required for this vehicle) came pouring out with abnormally thick and sludged oil followed by some more coolant.


This wasn't looking good for the owner and when the technician found a piston and conrod had ripped through to the sump, the only solution was a brand new engine for this car. Cost all up $7,500. With the customer pushing their luck between services, the oil had broken down so badly, it no longer resembled what we know as oil anymore.
Only high quality oils like Liqui Moly will last at 30,000kms between servicing. However, we still recommend to service your car more regularly like 10,000-15,000kms due to our harsh conditions here in Australia and the quality of fuels. Using a lower quality oil means that the engine oil will be breaking down before your service is due and sludging up. Pushing that oil well beyond its limits will only damage your engine and cause you more money in the long term. Over the length of the customer having this car and servicing it the way he had may have saved him at best up to $2,000. But in the end, having someone who doesn't know what they are doing, putting the wrong products in, and leaving your service intervals too long cost him $7,500. Better to be having that money in your pocket and a car that is running than not.

Article prepared by Liqui Moly Australia.
You are now able to search among the nearest Liqui Moly Workshops from your mobile, www.liquimoly-servicepartner.com (Malaysia, Singapore, Indonesia)
---