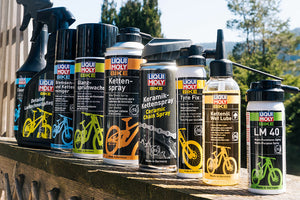 Perfectly clean, maintain and lubricate bicycles
Much more riding fun and less material wear with LIQUI MOLY BIKE products: Step-by-step guide to a well-maintained bike and e-bike.

From combustion engine to chain drive
Especially when the weather is nice, the desire to experience nature on two wheels increases. But before you get on your bike, make sure everything is working reliably. To ensure that your bike is always in top shape when you need it, you need to take proper care of it. We show you how you can get your bicycle fit for the new cycling season with our all-round carefree range.
Remove coarse dirt and dust with the highly effective and biodegradable Bike Cleaner. Simply spray the bike with the cleaner and then rinse it thoroughly with water after a few minutes. The Bike Cleaner removes mud, dirt, dust and leaves without leaving any residue.
Dry the bicycle thoroughly with a clean cloth and degrease the disk brakes and bicycle chain with Bike Brake and Chain Cleaner. With its effective solvent combination, it cleans oily and greasy dirt quickly and easily.
When the bike is clean and dry, and the chain and brakes are degreased, the frame can be polished with Bike Detailer and aMicrofiber Cloth. This will remove light soiling such as dust or water stains and give a beautiful shine. It also seals smooth paints for several weeks and provides an excellent water beading effect and long-lasting protection against aggressive environmental influences. Bike Detailer maintains the cleaned finish for a long time and reduces new dirt adhesion. 
By the way, minor scratches can be evened out with Bike Gloss Spray Wax.
Finally, the degreased bicycle chain must be lubricated again to prevent wear, corrosion and friction, as well as to ensure smooth running of the chain. It depends on what the bike is being used for and personal preference as to which is the best lubricant to use:
Other moving parts must also be lubricated after cleaning. As a universal lubricant and care product, the Bike LM 40 Multi-functional Spray offers outstanding protection against corrosion. It displaces water, makes rusted parts movable again, dissolves dirt and provides excellent lubrication. Thanks to its excellent creep characteristics, it penetrates even the narrowest of spaces and reliably eliminates squeaking noises.
Our extensive BIKE range is based on the initiative of a number of employees who themselves are passionate pedalers. They kicked off the development and subjected the various products to long and harsh tests in day-to-day use. This, in turn, allowed their colleagues in research to fine-tune the formulations down to the smallest detail. The result is a special product line that optimally cares for and lubricates your bike.
---