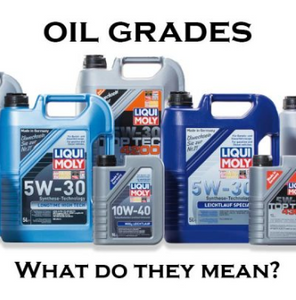 Oil Grades and what do they mean?
Gone are the days where you could have one grade of oil in a workshop and it covered pretty much every car that came in for a service. But what do all these numbers mean and how does it affect what oil you need to put in your car.
An oil's viscosity or weight is very important. It affects the oil's ability to reduce friction and transfer heat. Two very important factors with an engine and having it run to it's optimum performance. Let's start off with what does the numbers i.e. 5W-30 mean? The first number followed by a "W" is what is usually called your start up weight, when the engine is cold. The second number, in this case, 30, is the weight when the oil is at its hottest temperature or running temperature. The lower the number, the thinner the oil. So a 5W-30 oil will be much thinner than a 20W-50 oil. New cars these days take anything from a 0W-20 weight to a 5W-40. Where an older vehicle or a race car usually takes a 20W-50 or a 10w-60. The reason for this is older or race cars require more friction reduction and heat transfer in comparison to a newer engine that hasn't had as much wear or as much load on it.




So what oil grade should you put in your car? Always go by what is recommended by the manufacturer. Especially if the car is still under warranty. If your car is under warranty and you use an oil viscosity that is incorrect and not approved, should you have any issue with the car, this could cause you a lot of trouble. Secondly, you need to not have only the right grade of oil, but one that has approval from the oil manufacturer for your particular car. If you walked into your local automotive store and had a look at their oil range, you would see several different 5W-30 oils. The difference is the additive package the manufacturer requires for certain vehicles and perhaps some further specifications e.g. API SN. For cars out of warranty, always go by the guide of the car or oil manufacturer for what they recommend for your vehicle still. After all, they know what is best for your vehicle and what works. Putting the wrong viscosity oil at the very least it will not allow the engine to work at its best. You may get increased fuel consumption if you put too thick of an oil in. It has never been more crucial to make sure you put the right oil in your car. Take the time to check your manufacturer's guide or online lube guides to help.




Article prepared by Liqui Moly Australia
You are now able to search among the nearest Liqui Moly Workshops from your mobile, www.liquimoly-servicepartner.com (click me) (Malaysia, Singapore, Indonesia)
---