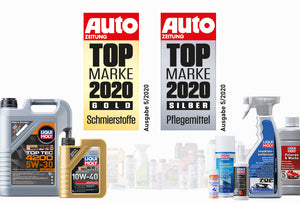 LIQUI MOLY top brand for the tenth time in a row
Once again, the readers of the car magazine Auto Zeitung agree: LIQUI MOLY is number one when it comes to oil! We were voted top brand for the first time in 2011 and are now at the top for the tenth time in succession.
"It sounds strange, but you can't get used to such an award - quite the contrary. To make it right to the front ten times in a row with the readers of Auto Zeitung is something that makes us particularly proud. Our thanks go to all those who have placed their trust in us and voted for us," says Managing Director Günter Hiermaier.
This time, some 650,000 readers were called upon to vote on the best brands in the car sector. "We use this award on labels, comprehensively in advertising measures, and for much more," says Hiermaier.
LIQUI MOLY is once again at the top of the readers' favor with regard to care products. As in previous years, we are ranked second here.
Günter Hiermaier: "After all, we are known to most readers as a lubricant brand. It is therefore all the more pleasing that we were able to establish ourselves in second place here. This speaks for our outstanding quality in the car care product range."
One thing is for sure: No matter what segment, LIQUI MOLY will continue to do everything in its power to maintain this level of customer satisfaction and quality. We are already looking forward to the 2021 readers' polls!
Find your nearest Authorized Liqui Moly workshop via www.lmsvp.com
Follow our facebook @ Liqui Moly Malaysia for the latest news promotions and events!
---