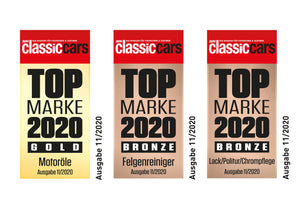 LIQUI MOLY on the podium three times at premiere
In the first reader survey of German "Classic Cars", the oil brand takes first place in the motor oils category and two third places

The readers of the German magazine "Classic Cars" voted LIQUI MOLY the top brand of 2020 with a gold medal in the motor oils category. The German lubricant company won bronze in the paint/polish/chrome care and rim cleaner categories. "We are delighted that the readers with their confidence in our brand and in our products are giving us a proverbial golden autumn," says Managing Director Günter Hiermaier.
For the very first time, the magazine of the Bauer Media Group had its readers vote on their favorite brands from A for automobile clubs to W for workshops. LIQUI MOLY made it to the podium in three of 14 categories. The special aspect: LIQUI MOLY was available to choose from in precisely these three categories, thus securing the maximum number of possible titles. In one, the votes were even enough for the top position – and that most impressively: With almost 45 percent of the readers' votes, the company kept its ten pursuers at a clear distance. "Every additional award is special for us. But it's something very special when we finish at the top of a readers' poll for its premiere," says Günter Hiermaier. Together with Ernst Prost, he forms the top management level of LIQUI MOLY.
LIQUI MOLY also climbed the podium in two other categories: Readers' votes in the rim cleaner category and in the paint/polish/chrome care category were each sufficient for 3rd place. "As a full-range supplier, it is gratifying for us when we are not only perceived by motorists in our core competence of lubricants and additives, but also when other areas of our product range are noticed and assessed positively," Günter Hiermaier sums up.
---